EFFECTS by TEESE
In 1996, REAL MCCOY CUSTOM branched out into the realm of stomp boxes. These three units were primarily available in Japan although a number of units were sold in the U.S.. While these units are no longer being built, they are being presented here for those who have heard of them but never seen them.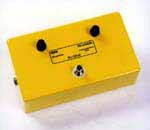 BIG QUACK
Combination of a hot-rodded overdrive
circuit and a specially tuned wah circuit,
together in a stomp box format. Two controls,
BIG for volume, and QUACK for position of the
wah sweep. Used by Luke Janklow of DARLAHOOD and
Page Hamilton of HELMET.
It's BIG, it's YELLOW, and it goes QUACK.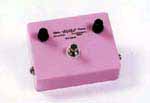 SWINEWAVE
A vintage styled FUZZ
producing a sine wave when cranked
.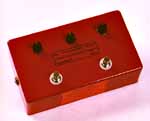 MFOB
This unit is known by two names:
Modified Frequency Overdrive Box, and
Monkeys Fly Out Butt.
The MFOB is a two-stage overdrive unit
that produces a tube-like square wave
when cranked. Controls are Volume, Gain, and
Universal Gain. Used by THE BLACK CROWES
and Page Hamilton of HELMET.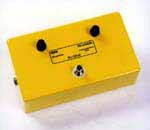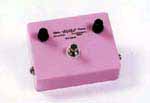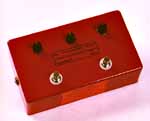 No portion of this site may be reproduced, copied, or downloaded without the expressed written consent of Geoffrey R. Teese. Purchase of any RMC product does not include transfer of Intellectual Property Rights. All Intellectual Property Rights are the sole property of Geoffrey R. Teese unless otherwise noted or licensed.
Back to RMC HOME