August 7, 2017-MOVING TIME. Our mailing address is now P.O. Box 217;Coquille, Oregon 97423.

November 5, 2015 - I've had many people ask me about the boards inside their RMC10.
Here's the scoop:
The RMC7 [RMC10] board was first laid out in 2009 because I wanted to move Joe Walsh from his original 2007 prototype wah-wah pedal with board mounted jacks to a version with free standing jacks. Joe wasn't the least bit interested in changing even one little thing about his wah-wah. For him, it was already perfect as it was. No amount of coaxing could get him to budge. So, I shelved the board.

Move forward four years. Stephanie and I wanted our new model, the RMC10, to have the same inductor as the Walsh Wah and Picture Wah. The first run of RMC10 wahs actually used the current RMC4 board blank but it was a really tight fit since it was laid out for a different case. For the second run I used the RMC7 board blanks I'd laid out for Joe. They proved to be a much better fit in the shell so I've stayed with that board.

So, when you open up your RMC10 and see a cirduit board with RMC4 or RMC7 on it, don't freak, just play...
September 15, 2015 - The RMC6FL/Wheels Of Fire Wah and Joe Walsh Signature Wah are now in production again, bringing the active lineup back up to seven models.
June 16, 2015 - Current production models are the RMC3FL, RMC4, RMC5, RMC8, RMC10. I'll be putting a couple more models back into production within a couple of months. Thank you all for your continued support. These are hard times...
November 22, 2013
Stephanie Lynn Anderson Teese
September 8, 1965 - November 22, 2013
The Love of My Life, My Wife, My Lover, My Friend
My Everything
I Will Always Love You!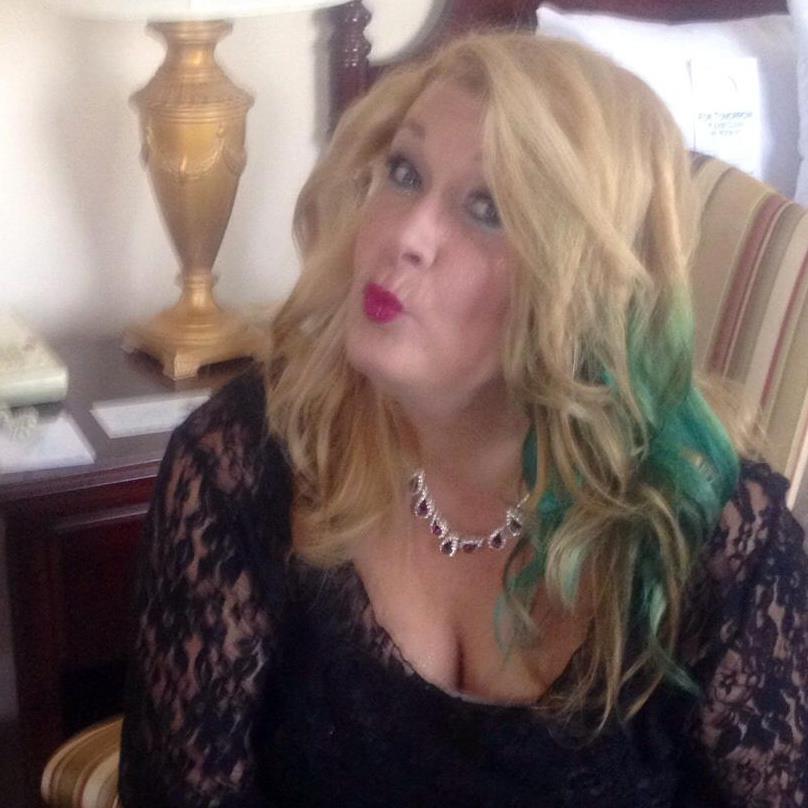 January 1, 2013
A very heartfelt THANK YOU to everyone who purchased an RMC wah in 2012 and helped us make it through the year. We would not still be here without you.
Peace, Love, and Wah,
Geoffrey
November 20, 2012
Hi Everybody,
Earlier this week I was granted Administrative Control over the Real McCoy Custom page on Facebook. Slowly but surely I'll turn it into something.
Peace, Love, and Wah,
Geoffrey
October 20, 2012
Hi Everybody,
I've finally joined Facebook as "Geoffrey R. Teese" because there is already at least one page out there that people think is me and it isn't.
Peace, Love, and Wah,
Geoffrey
May 16, 2012,
Hi Everybody,
Some of you have found it hard to contact me this past month plus- here's why...
Towards the end of February I was (mistakenly) diagnosed with cancer. I was told I was going to lose at least half of my tongue, would have to have my jaw rebuilt, and wasn't going to live a whole helluva lot longer. From that point in time it would be over 2 weeks before my biopsy date and my whole world was going upside down more and more each day. After my biopsy it became a waiting game to get the results. In the meantime I was pretty much rendered unconscious by the pain meds from the biopsy (no, I do NOT handle pain very well).
The biopsy results came in one week later and we learned that the initial diagnosis was WAY off base and that I wasn't riddled with cancer. While we've found that I do have some non life-threatening medical issues, there is nothing that we're aware of that is going to take me prematurely and permanently off the field.
I won't say things are back to "normal" because we've just gone through one month plus of pure hell and that kind of funk doesn't just vanish when the "all clear" is sounded. However, I am back at work and wahs are getting built again. That said, I will still be out of the shop from time to time because of various follow-up appointments, all with the aim of getting me back to 100% health.
Peace, Love, and Wah,
Geoffrey
February 10, 2012
Hi Everybody,
Happy New Year first of all.. Why so late? Well, my shop computer crashed HARD the first week of January and today is the first day I've had the computer back and running and with access to my site and all of my files. I've been shipping a few dozen wahs out to dealers since I had a partial printout of outstanding orders. Things will get going a bit better very soon.
I'd like to take just a moment to note the loss of a great guitarist, friend, and RMC artist. Larry "Rhino" Reinhardt, from Iron Butterfly and Captain Beyond, died January 2, 2012, in Florida. Goodbye my friend, my Captain...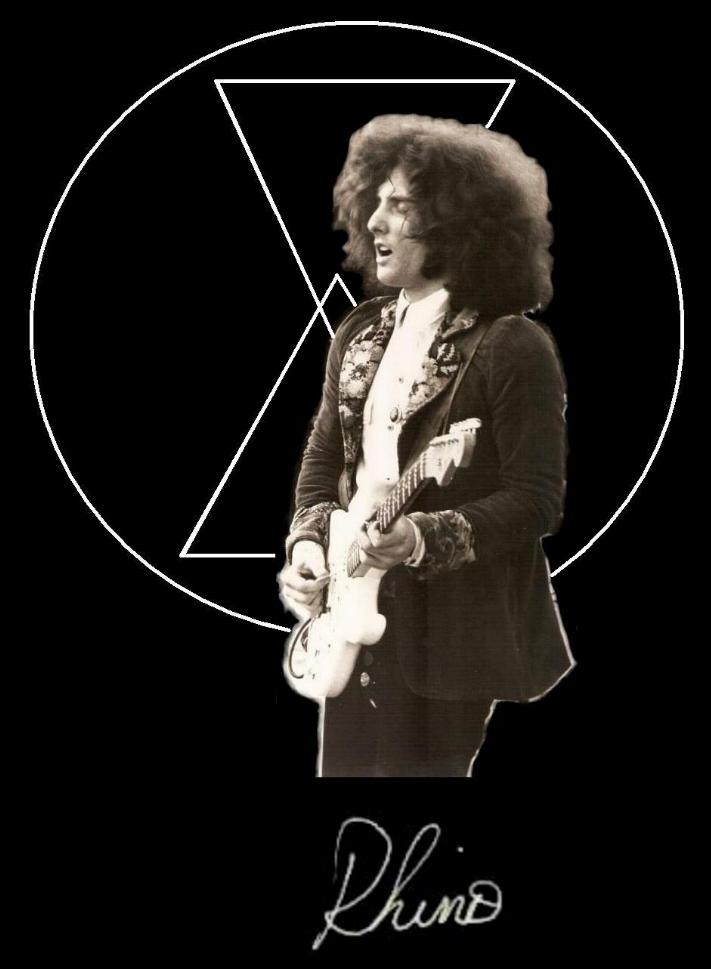 Peace, Love, and Wah,
Geoffrey
September 22, 2011
Hi Everybody,
As a lot of you know, in late 2006 I had to revamp my entire line to meet new European laws. That left me with literally thousands of components and over 100 boards that I could not use in pedals that could end up in the UK or EU countries (which, in reality, was ANY pedal). I've decided to offer a complete drop-in set of Guts (just like in the '90's) to USA customers. The only new components will be the on/off switch (Italian), jacks (Switchcraft), and Karmaflux inductor (EMI/hum resistant). Everything else, including the wire, will be NOS stuff (tropical fish caps, Italian Arco caps, carbon comp resistors, etc.). The boards come from runs in 2000 and 2004 so they are pre-fuzz friendly days. Heck, I don't think Dave Fox had even designed the first FWR circuit back then. Clean, crisp sound with a strong bottom end and damn near unity gain. This is not any of the same sounds available with any of my current RMC wahs, including the RMC3FL. The delivered cost, again - ONLY for the USA, will be $135. I'll have a dedicated page up with more photos and audio clips within the next couple of weeks. Until then you can contact me for ordering or more information.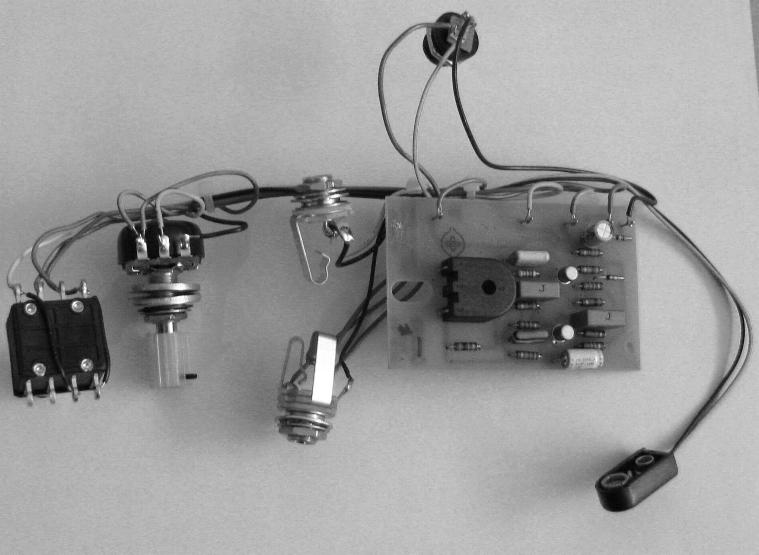 This set of RMC Guts includes a pre-wired power supply jack. DIY jacks that insert from the outside of the case are also available at no additional charge. The Guts can also be ordered as battery powered only just in case you don't want to drill a half inch hole in your wah shell.
Peace, Love, and Wah,
Geoffrey
July 5, 2011
Hi Everybody,
I've had a number of people contact me about custom colors so I thought I should let everybody know what is up. Up until a few months ago there was a powder coat company in town that I'd been using to do some test finishes and custom pieces. Unfortunately, the shop closed suddenly and I've lost several thousand dollars of special-order powder coat material as well as the shop that used it. I don't know if or when it will re-open under a new owner. All I know is that I'm not able to offer any custom colors in any way, shape, or form.
Peace, Love, and Wah,
Geoffrey
June 9, 2011
Hi Everybody,
I need to clear the air regarding a few things floating around on the Internet. First, I've always used "globally sourced components" from the very beginning. Very few, if any, electronic components are made in the United States and it has been that way for years. Even though I buy a lot of my stuff from US companies, they are only distributors, not manufacturers, and they bring in components from around the world. I use parts that originate from the US, England, Italy, India, Taiwan, Mexico, Japan, and China (at least that's all that come to mind right now). I go where ever I need to in order to get the components I want. Take a look inside any of your US built effects and you'll see a board full of components that weren't made in the US. I use the phrase "globally sourced components" because of various international laws and mandates. This phrase wasn't on my older wahs because the laws and mandates weren't in effect at that time.
This same series of international laws and mandates are behind my use of Molex-styled connectors instead of the wire harnesses I used throughout the '90's, ending in 2006. Most outside the US repairs can be done without the need of on-site soldering and without having to send a 5 pound wah pedal around the world just to have me replace an on/off switch, a wah pot, or anything on the primary wah circuit board.
My wahs are built one at a time by me in Coos Bay, Oregon, just like they were in California and South Carolina. From time to time I've had one or more helpers but I'm doing this solo once again.
Neither "globally sourced components" nor Molex-styled connectors are bad things. Anybody who tells you something else is trying to sell you something else.
Peace, Love, and Wah,
Geoffrey
March 17, 2011
Hi Everybody,
Back around 2003/2004 I received a lot of internet input requesting "more treble". At that time I decided to start calibrating my wah pots so they would reach their maximum treble rotation at toe down instead of setting them by ear. Well, that was fine for a while but tastes change and I received internet input stating my wahs were too bright/sharp. As of the start of 2011 I have been calibrating each wah once again so it sounds like I want it to. In most cases that means more treble is available if you really feel like you need it, but it will require a slight recalibration.
While most companies are cutting corners and quality in order to lower their selling price I'm trying to give you more wah for your money, with each model, except the Walsh Wah, having at least 2 different voices. I've also thickened the bottom plate and upgraded the capacitors, PCB material, on/off switch, and all potentiometers. No, you won't find Alpha pots as controls anymore and I don't use those run-of-the-mill off the shelf pot-metal wah shells like most everyone else. RMC wah shells are custom made of high-quality ROHS Compliant zinc/aluminum alloys and can be legally sold throughout the world. My wahs may cost a little bit more than some copycats out there, but you get what you pay for.
Peace, Love, and Wah,
Geoffrey
September 2, 2010
Hi Everybody,
Carlos Santana is now using several different RMC models, and will soon have a couple of custom pieces to use on his world tour.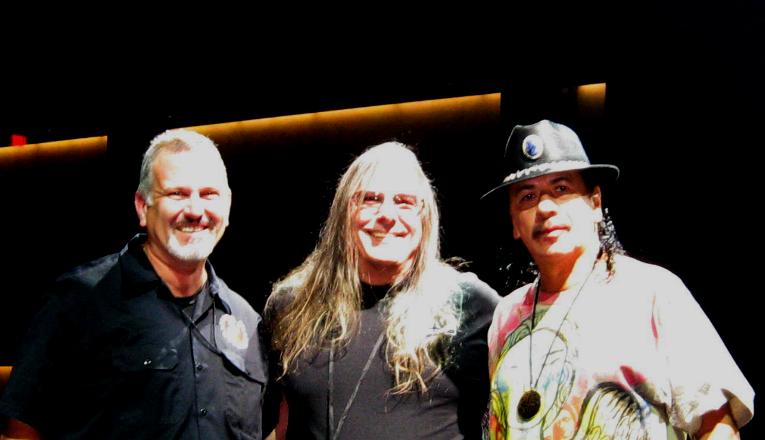 Peace, Love, and Wah,
Geoffrey
July 14, 2010
Hi Everybody,
I'd like to welcome Carlos Santana to the growing list of RMC Artists. Carlos' playing has inspired me since Woodstock and I am proud to be a part of his sound. You can hear RMC wahs on worldwide tour with Santana today. THANK YOU ED (and Mark).
Peace, Love, and Wah,
Geoffrey


No portion of this site may be reproduced, copied, or downloaded without the expressed written consent of Geoffrey R. Teese. Purchase of any RMC product does not include transfer of Intellectual Property Rights. All Intellectual Property Rights are the sole property of Geoffrey R. Teese unless otherwise noted or licensed.
The Real McCoy Custom office and shop buys 100% renewable power from Pacific Power as part of their Blue Sky program.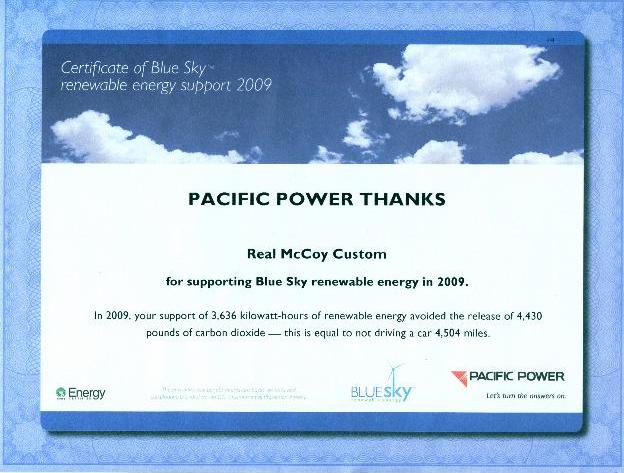 Back to RMC HOME