May 23, 2011
Hi Everybody,
I've got Jury Duty coming up in June. On-call dates are from June 13 through June 30. If you're going to be sending anything in to the shop please be sure it will arrive before June 13 or after June 30.
Peace, Love, and Wah,
Geoffrey
February 25, 2001
Hi Everybody,
Oh yeah, it was the flu! Doing much better now after being out for a week and a half. I will be out of town this coming Monday and Tuesday, February 28 and March 1 and will return to the shop on Wednesday, March 2.
Peace, Love, and Wah,
Geoffrey
February 4, 2011
Hi Everybody,
Well, I've managed to get a couple of hundred pieces to dealers worldwide over the last 4 weeks. Of course, pushing that much out is starting to take a toll, either that or the flu has come my way. Either way, there is a strong chance I won't make it in to the shop this coming Monday. I'll be back building again just as soon as I'm able.
Peace, Love, and Wah,
Geoffrey
January 18, 2011
After selling out the entire first run in just a few months, the RMC8-Guitar Eqwahlyzer is back in production. Dealers should start getting stock in about two and a half weeks.
Peace, Love, and Wah,
Geoffrey
January 10,2011
Happy New Year to all. Our internet connection here at the shop was down for a few days but we are online once again. We will not be at NAMM this year, there's just too much to build to jump to SoCal for a week.
December 13, 2010
We saw these people last weekend in Portland, Oregon. I don't know what else to say except maybe somebody out there has a clue what was happening as the bananas weren't much help.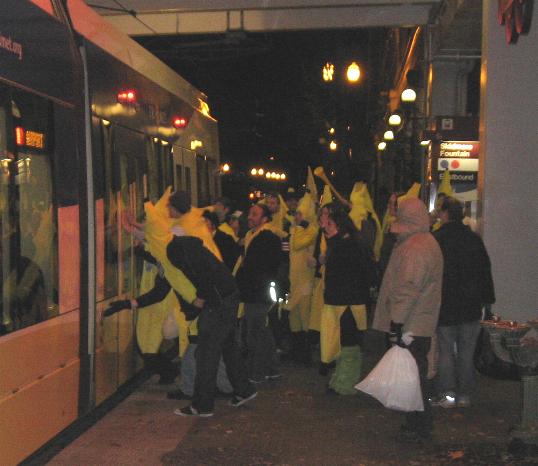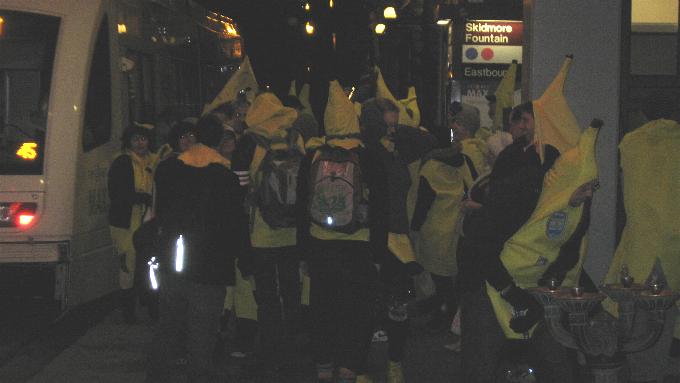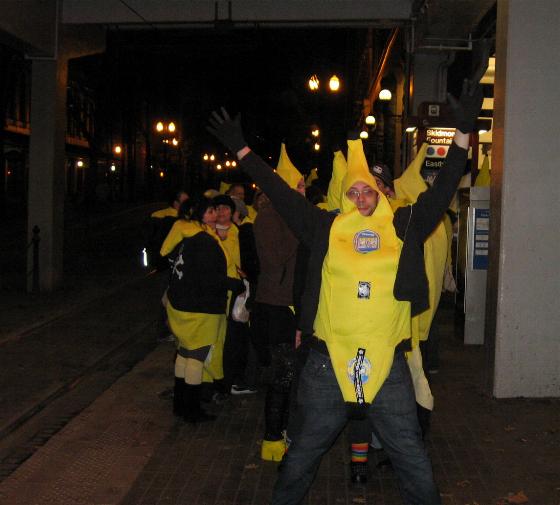 Peace, Love, and Wah,
Geoffrey
December 1, 2010
Hi Everybody,
I'll be out of the shop until Monday, December 6, 2010. Up to Portland on another road trip. I'll post some photos once we return.
Peace, Love, and Wah,
Geoffrey
August 27, 2010
Hi Everybody,
I'll be out of the shop early on Friday, August 27, and won't return until Thursday, September 2. I'm headed to Las Vegas to meet up with Carlos Santana.
Peace, Love, and Wah,
Geoffrey
July 14, 2010
Hi Everybody,
I'd like to welcome Carlos Santana to the growing list of RMC Artists. Carlos' playing has inspired me since Woodstock and I am proud to be a part of his sound. You can hear the new RMC8-Guitar Eqwahlyzer on worldwide tour with Santana today. THANK YOU ED (and Mark).
Peace, Love, and Wah,
Geoffrey
June 11, 2010
Hi Everybody,
The RMC8 and RMC9 have shipped to US dealers and will arrive at the stores next week. The RMC2, RMC3, and RMC6 are sold-out until August.
April 6, 2010
Hi Everybody,
I've been incredibly sick the past 2-3 weeks and am still struggling to put in more than 2 to 3 hours per day at the shop. Since this is a one-man/person operation things can't help but run a bit slower. Please be patient.
Peace, Love, and Wah,
Geoffrey
March 2, 2010
Hi Everybody,
I've received my latest, medium-sized batch of wah shells. All back-ordered/out-of-stock models will get built and shipped to dealers ASAP. Unfortunately, I'll still run out of metal before I get through all outstanding orders. In the meantime, I'll polish up my crystal ball so maybe, just maybe, I'll have enough metal to go around next time. Thank you all for your patience.
Peace, Love, and Wah,
Geoffrey
February 22, 2010
Hi Everybody,
There was a major Verizon-based internet outage in Oregon last week that kept us offline from late last Wednesday morning until yesterday. That is why you might not have received a timely response to any emails from February 17 on. Everything is back up and all emails have been answered. Any parts requests received during that time will be shipping tomorrow, February 23.
February 15, 2010
Hi Everybody,
I expect to have the new RMC8 and RMC9 on dealers' shelves by the end of April. All the electronics are ready and I'm "just" waiting for the cases to arrive. In the meantime we've just about built up everything we have metal for. I've got another batch of metal due here within a couple of weeks but all of those cases are already spoken for with dealer orders. We're shipping weekly so if your dealer doesn't have stock now they should soon.
Peace, Love, and Wah,
Geoffrey
I made it back from NAMM, through the rain and snow, all in one piece. My thanks to everyone who stopped by, took photos, and hung out. We'll try to do it again next year.
Meet me at NAMM and visit our off-site showcase at the Econo-Lodge At the Park,
1126 W. Katella Ave., 714-533-4505, less than a block behind the Convention Center.
December 8, 2009
I'll be closing up the shop for NAMM, Monday, January 11, 2010. I will not be back at the shop until January 22, 2010. No items can be delivered between these dates as there will be no one here to accept them and they will end up being returned unopened.
Peace, Love, and Wah,
Geoffrey
The following dealers/distributors have received new shipments or have product on the way:
Charlie Chandler's Guitar Experience - UK
Wild Guitars - Israel
Daniel Cabibbe - Italy
AnalogMan - USA
Humbucker Music - USA
Haight Ashbury Music - USA
Music Gear Guys-USA
Willie's American Guitars-USA
Fat Tone Guitars-USA
RockNRoll Vintage-USA
Rainbow Guitars-USA
Stompin-Ground-USA
The Music Zoo-USA
Cool Guitar Stuff-USA
Indoor Storm-USA
Evans Music City-USA
Moog Audio Montreal-Canada
Moog Audio Toronto-Canada
Bald Parrot Guitars-USA
Prymaxe Vintage-USA
Ludlow Guitars-USA
Musictoyz-USA
Cheeky Music-Switzerland
Electronvolt Effects-Spain
Human Gear-Japan

October 15, 2009
Prototypes of upcoming RMC models are out on the road with professionals. Check out Tinsley Ellis in early October for a listen and glimpse of the upcoming RMC8. The RMC11 can be heard under Korel Tunador's foot at Katy Perry concerts. I'll have the RMC9 prototype on stage with me November 6 & 7 here in Coos Bay. The RMC10 & RMC12? They're still under wraps. Stay tuned, there's more in store.
October 9, 2009
I've got a pretty early sound check today so I'm out of the shop a little after noon.
September 25, 2009
Prototypes of upcoming RMC models are out on the road with professionals. Check out Tinsley Ellis in early October for a listen and glimpse of the upcoming RMC8. The RMC11 can be heard under Korel Tunador's foot at Katy Perry concerts. I'll have the RMC9 prototype on stage with me October 9 & 10 here in Coos Bay. The RMC10 & RMC12? They're still under wraps. Stay tuned, there's more in store.
Peace, Love, and Wah,
Geoffrey
August 13, 2009
My friend of many years, Bob Sweet, lost his battle with cancer on October 24, 2008. In these turbulent times, the death of one person may seem like a small thing to some. To those of us who knew Bob Sweet, it is a huge loss. Bob was a good soul, a giving person, a great musician, and a man of his word. He would be the first in line to donate his time or one of his "electronic toys" to help someone in need. When his time of need came, we were there to give for him. Bob was humbled by the worldwide outpouring of support during his battle with cancer. We spoke about it many times, with Bob always ending up in tears. He could never understand how he touched us all, but humility was always one of Bob's strong suits.
Bob, I loved you like a Brother and will miss you forever.
Goodbye my friend...
Geoffrey
Hi Everybody:
As you can see, things are changing around a bit at the site. Let me know what you think of the new format as it develops.
I've posted a really nice clip on the AUDIO page of Joe Walsh and the Eagles with Joe just burning with his RMC Signature Wah, starting around 2:50. The clip will probably get pulled from YOU TUBE soon so try and see ti while you can.
For all of you who are trying to dial in a cool funk sound in your RMC3, RMC3 owner Chris Bove has allowed me to post his personal tuning.
SUPER FUNK
LOW = 1:30
MID = 2:00
Q = 12:00
VOL = 4:00
F/T = 3/9
SWEEP = 2, 7
If you can't get funky with this tuning then perhaps you should work on your "wah foot"...
As you might have guessed by the lack of RMC wahs on dealers' shelves, we've been out of wah cases for a while. That wait will soon be over. In the meantime, I've dreamed up and prototyped a number of 21st century wahs which may be released later this year. These working prototypes are in the field now being tested.

RMC has teamed up with Acme Electronics to produce our new Karmaflux inductor. This new inductor is in all RMC wahs except the RMC4 and Joe Walsh Signature Wah. The Karmaflux inductor has been in development for well over one year and has been road tested by touring professionals for the past 10 months.
............ ..................
REAL MCCOY CUSTOM is proud to present our first signature wah, the JOE WALSH SIGNATURE WAH. Other than the special graphics Joe picked out, this is the same wah that Joe is presently using. The JOE WALSH SIGNATURE WAH is now shipping and can be found on dealers' shelves around the world.
There is new information on the TROUBLESHOOTING page which should be of interest to owners of early FFT equipped RMC wahs. We no longer accept direct orders - all RMC sales must go through our dealer network. We ship to dealers worldwide nearly every week. Chances are good that if your RMC dealer is out of stock right now, they will have stock within 90 days.
Since we are so close to finally getting caught up, we are, once again, accepting new dealerships for "free-standing/brick and mortar" bona-fide music stores. If you would like to see RMC wahs at your favorite music store, ask them to contact us for information.
Please be advised that some Ebay sellers (individuals, not dealers) are mistakenly describing older RMC wahs with current information from my site cut and pasted into their ads, complete with new features, i.e. licensed fuzz-friendly circuitry and easily adjustable rocker tension. Used RMC wahs are not covered by warranty. If you have ANY questions about an RMC product on Ebay, feel free to contact me. All fuzz-friendly RMC wahs have a recessed power supply jack on the output/left side of the wah case. Non fuzz-friendly RMC wahs have case mounted power supply jacks almost always on the right/input side of the wah.
I would like to give a sincere "THANK YOU" to Dave Fox, of Foxrox Electronics, for working with me to come up with the right formula, so that "fuzz-friendly technology" could be available to RMC players, with out having to be left without their pedal for an FWR drop-in piece. You are a stand up guy, and I greatly appreciate your expertise and friendship.
Peace on Earth.

Peace, Love, and Wah,
Geoffrey
FORGERY ALERT: Imitation RMC ROC-POT2 potentiometers are being sold in the U.S. and U.K. markets. They are marked on the back "RMC ROC-POT2 0213", and have black gears. Authentic RMC ROC-POT2 potentiometers all have WHITE gears on them, and are marked "RMC ROC-POT2 0112" or "RMC ROC-POT2 0246". My pots are only available in RMC wahs and are not available on the open market. The RMC ROC-POT2 was replaced by the RMC ROC-POT3 as of 2006. Effective 2007, the RMC ROC-POT3 was replaced by the RMC ROC-POT4. Effective 2008, the RMC ROC-POT4 has been replaced by the RMC ROC-POT5. The new RMC ROC-POT5 is a sealed, low-noise, ultra long life pot which should last for the life of the wah. Older RMC wahs may be sent in for installation of our new pot as we do NOT sell our pots for DIY installation. Please contact Geoffrey for specifications.
Randy Hodgin - In our hearts forever. Marine, Hardhat, Grandpa. 4/9/06
Cesar Diaz - May you rest in peace. We will miss you. 4/26/02
Maynard Ferguson - Road warrior, teacher, friend. Move over Gabriel... 8/24/06
Ken Fischer - Thank you for everything. Rest in peace. We'll all miss you. 12/23/06
Bob Sweet - A good soul, a man of his word, my friend. Rest in peace. 10/24/08
Mitch Mitchell - Play on drummer, Jimi's been waiting. 11/12/08
Les Paul - The Godfather of Electric Guitar has left us. 8/13/09

Welcome to REAL MCCOY CUSTOM, the home of fine handmade wah-wah pedals since 1993. While RMC was created in 1993, I've been playing guitar professionally since the late 1960's and have been building effects since the mid 1970's.
The number of available sweep selections on the RMC2 has been upgraded to 11 sweeps from 5 sweeps. This is on the latest RoHS Compliant model, with serial numbers starting with "207" ("2" for the model designation and "07" for the year of production) and "208".
All new RMC wahs feature licensed fuzz-friendly technology (FFT). You can easily identify FFT equipped RMC wahs as the power supply jack is now recessed and on the left/output side. As part of the FFT circuitry, all new RMC wahs have a board mounted trimmer (VR21) which can be used to adjust the output volume of the wah effect. Older, non-FFT equipped RMC wahs with power supply jacks have them on the right/input side. RMC1, RMC4, and RMC5 wahs are all built off the stock number RMC1 baord, which has RMC1 stenciled on it. This doesn't mean that an RMC1 stenciled board IS an RMC1, just that the board designation (in-house identifier) is RMC1. Don't freak out if you open up an RMC4 or RMC5 and see RMC1 stenciled on the board. Likewise, the RMC2 and RMC6 are built off the same stock number RMC2 board.
If you want or need to contact me please do not leave a message on a discussion group or newsgroup somewhere. Chances are great that I will not read it in time to answer (if I'm even a member of that forum) although I do usually find out about it several days after you might post. I can only answer questions when they are emailed to me directly. I answer all emails. If you do not get a reply, please, retransmit your email as your original message may have been deleted by my spam filter or AOL (where all my email gets delivered) might have bounced it back to you (especially with international emails for some odd reason). Because of all of the email problems, I have set up a new email account. Please see my CONTACT page. Net neutrality is the only answer. Put pressure on your person in Congress to vote FOR net neutrality. Otherwise, the internet clogs will only get worse.

I'd like to welcome Geoffrey Richardson and Pye Hastings of CARAVAN to the growing list of RMC owners. A warm welcome also to the GOO GOO DOLLS (John Rzeznik, Korel Tunador, and Brad Fernquist), Joe Walsh, Paul Gordon (The B52's), Steve Stevens, Jon Butcher, Larry "Rhino" Reinhardt, John Mayer, Derek Trucks, Joe Satriani, Neal Schon, Doug Boyle, and John Frusciante, the newest recording artists to join the RMC roster.

I am quite pleased to announce that all 7 models of my RMC wahs have passed CE certification. All RMC wahs are also RoHS Compliant and are being shipped with an "RoHS Compliant" sticker (or silk-screened) on the bottom plate. "RoHS" is also silk-screened on the printed circuit board.
Late in 2003, a client had me build a custom wah which he named the WHEELS OF FIRE (now RMC6) wah. Since that initial piece, I have had numerous requests for that same custom wah. While the WOF wah has not been part of my production lineup, I have now decided to add it to the official lineup. For those of you not familiar with the WOF, it has the same wah sound as the old Wah-Fuzz-Straight Macari wahs, and has three case mounted controls to tailor the sound.
I was fortunate enough to get a great scan of the potentiometer change-out instructions that the Thomas Organ Company once included with their wahs. (Thanks Jen, you're the best.) You can find it on my TROUBLESHOOTING page.
The WIZARD WAH was reviewed in the November 2003 issue of GUITAR WORLD.
For those of you who are interested, the April 2002 issue of THE TONEQUEST REPORT featured an article on RMC wahs, complete with an interview. If you're not a subscriber, you may contact them at http://www.tonequest.com. sis

RMC wahs are now in Korea. Interested musicians should check out Mr. Lee's fine shop:
VINTAGE GUITAR
Seoul, Korea
I'd like to take a moment to thank Mr. Lee of the Vintage Guitar shop in Seoul, and Denny Kim, for the opportunity to visit their beautiful country. I am honored to have them represent me in Korea.

Guitarists in the U.K. can visit Andy at Aire Guitars in Bradford to hear what RMC wahs are all about. The official info is:
AIRE GUITARS
266 Harrogate Road
Bradford BD2 3RH England
Tel. 01274 632000 Tues-Sat 10:00--6:00
The U.K. magazine GUITARIST had a review of the RMC3 in their May, 2002 issue. The publication always includes a CD with each issue. This CD has 2 tracks that feature the RMC3.
RMC wahs are now in France. Next time you're in Paris, check out
LA PEDALE
19, rue Victor Masse
75009 PARIS - FRANCE
01-48-75-44-45
RMC wahs are now available in The Netherlands. All interested players should contact:
VAN DE HAAR GUITARS AND PARTS
Edisonweg 30
3404 LC Ijsselstein
Netherlands
tel:0031-30-6871232
Musicians in Japan looking for RMC wahs can find them at HUMAN GEAR in Tokyo.

REAL MCCOY CUSTOM wahs are available at dealers throughout the world. If your favorite music store doesn't carry RMC wahs, have them contact RMC by email or telephone.
If you have trouble mounting your wah on your pedal board, STOMPIN-GROUND has a simple solution. They manufacture an add-on bottom plate that you install right on top of the original metal plate. (Be sure to keep the metal plate on to help block RFI and EMI.) Their wah plate comes complete with Velcro already attached. The screw holes are countersunk so the screws don't stick out like they normally do when you take the screws out of the rubber feet. Check them out. They could just be the perfect solution to your "How do I mount my wah?" problem. Do NOT simply take the screws out of the feet and try to use them to hold the back plate on without an add-on plate like the one from STOMPIN-GROUND. The screws are TOO LONG TO USE WITHOUT THE FEET. You will end up breaking the screw off in the screw hole and you will most likely be unable to get the screw out. There are no such things as "spare" wah cases. If, by some wild chance, I happen to have enough cases on hand to be able to replace your damaged case, there will be at least a $50 charge for the case and the transfer of guts, not including return postage.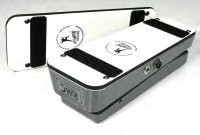 All REAL MCCOY CUSTOM wahs are designed by me, Geoffrey R. Teese. It might take a while for you to locate one of my wahs, but I think you'll find the hunting time well spent.
If you are running a distortion unit with my older (non FFT equipped) version wahs, you might encounter the classic wah/fuzz interface problem. If you kick on your distortion and the character of the wah changes, I suggest you look into Dave Fox' FOXROX ELECTRONICS FWR. The FWR allows non-buffered wahs to interface with fuzz units and retain all the character the wah has when not using fuzz. Of course, sometimes just changing the order of the wah and fuzz is all that is needed to allow them to work together.
Thanks for your interest in REAL MCCOY CUSTOM and for visiting my site. Come back often. There's more in store.
Peace, Love, and Wah,
Geoffrey R. Teese "LLC" (No, not that LLC, the other LLC...)

REAL MCCOY CUSTOM
753 Newmark Ave.
Coos Bay, Oregon 97420

541-888-5869--Be sure to speak loud and distinctly so my digital machine can record your number (say it twice-slowly) and I can return your call. Cellular phones do not record very well. If I do not return your call it is because I could not understand the phone number. This is NOT a fax line.
Well, I guess it had to happen. I am being "e-stalked" by someone (Tonereaper, fender6460) who is intent on destroying my reputation by posting bogus reviews, lies, supposition, and distortions about me, my wahs, my employees/friends, and RMC products in general. Do not be deceived by such slander. My wahs are still built here, in my workshop (currently located in South Carolina), by myself and my friends. My components are, as they always have been, globally sourced. My new wahs are different from my previous versions. They have added circuitry, different component types, and a different overall construction technique. Everything is in response to product improvement, musicians' requests, and/or international laws. The sound and quality are never compromised. I stand behind my new wahs every bit as much as I stand behind my old wahs. I am proud of my entire line of wahs and I will defend them to my last breath.

No portion of this site may be reproduced, copied, or downloaded without the expressed written consent of Geoffrey R. Teese. Purchase of any RMC product does not include transfer of Intellectual Property Rights. All Intellectual Property Rights are the sole property of Geoffrey R. Teese unless otherwise noted or licensed.
The Real McCoy Custom office and shop buys 100% renewable power from Pacific Power as part of their Blue Sky program.



GOODBYE, GEORGE - FOREVER FAB
Back to RMC HOME